The Sukin Journal
Discover the world of natural through our eyes! From skincare tips, lifestyle and environmental hacks to inspirational interviews! Explore it all.
Micellar Water: France's Best Kept Beauty Secret
Micellar Water is currently trending, yet has been long used in France to cleanse, remove make up and tone the skin.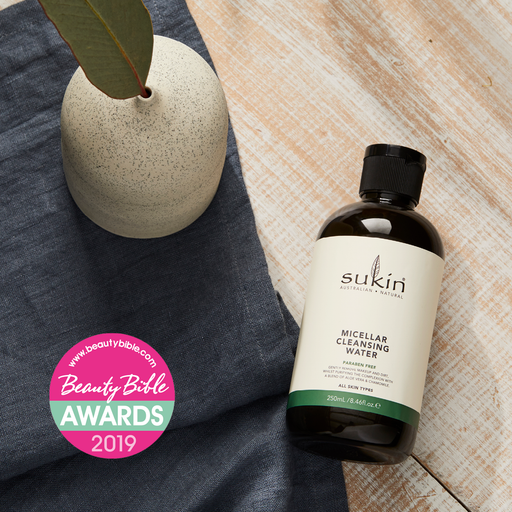 Magical Micellar!
A bottle of miracle Micellar Water is sold every three seconds around the globe! Micellar water originated in Paris in the 90's, and has since been the key skincare ingredient for French women.

So, how does it differentiate from other cleansers on the market? Micellar water unlike regular cleansers does not use harmful soaps or detergents - it contains tiny micelles (clusters of fatty acid esters) to dissolve impurities on the skin like make up, dirt and oil.
How to:
Simply soak a cotton pad with this golden liquid and wipe over the face. The world's top make-up artists swear by it; we feel as though we've just discovered gold! This extremely gentle yet effective product removes make up and impurities naturally and effectively- leaving you with glowing clean skin.
Sporteluxe Loves: Sukin's Micellar Cleansing Water
Formulated with Aloe Vera and refreshing cucumber this luxe product dissolves impurities, whilst calming and soothing the skin for a silky smooth and hydrated result!
Sporteluxe Beauty Tip:
Soak a cotton tip with Micellar water to help straighten out liquid liner flicks to give you a sharp, clean line.
Article reposted from Sporteluxe.com.
Written by Olivia Boyd-Smith; April 23 2015.
See all our cleansers here.
---