The Sukin Journal
Discover the world of natural through our eyes! From skincare tips, lifestyle and environmental hacks to inspirational interviews! Explore it all.
What is a toner, and do I really need one?
We take a look into the different uses of a toner and how to decide if you need one in your skincare routine.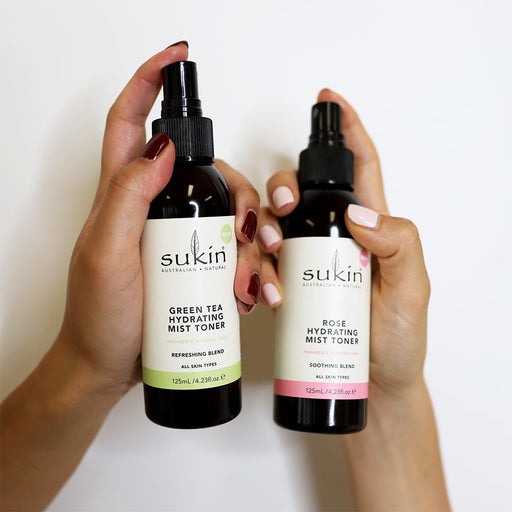 Why tone the skin?
Toning seems to be the one step in a skincare routine that has the most people baffled.  Should I use a toner? What does it do? Do you need to use a toner? The confusion may be caused by the many different uses of a toner, so it comes down to assessing your skin type.
Firstly though, toners can be included in a routine for a number of reasons:
Astringent – to remove excess oil and tone pores after cleansing
Freshen – to refresh the skin after cleansing
Spritz – to rehydrate skin, brighten skin or set makeup
The
Sukin toner

 
is formulated for additional hydration, and to calm the skin after cleansing. With just two actives of Rose Water and Chamomile, the Sukin toner falls somewhere in between freshening and spritzing.
So on to assessing your skin type. If you are an overly oily skin type then chances are you are familiar with toning your skin. If you are going to use one to assist in balancing the oils after cleansing, our suggestion would be to stick to natural ingredients where possible as many toners contain strong synthetic astringents that can over strip the skin of oils.
If you are a dry skin type then a toner isn't really necessary unless you want to infuse the skin with extra moisture and goodness prior to cleansing. A toner in this instance can help with keeping the skin plump and bright throughout the day. 
Essentially, your toner should work in conjunction with the rest of your routine to perform that additional function such as extra hydration, an additional cleanse or a balance of oils post cleansing. 
A good way to ease into using a toner, is to try a
Micellar Cleansing Water.
This product is essentially a cleanser and toner in one and can be slotted into your current routine, or used on its own as a two in one product.
Something to be wary of...
Small amounts of natural ether alcohols are perfectly fine for the skin, and will have little if any effect on your natural oil balance. Some toners however rely on high amounts of alcohol as an active astringent, which can be very drying on the skin if used frequently. If you find this kind of toner necessary in your skincare routine for oil control, perhaps look into changing your cleanser instead and see if you can balance your oils that way.
See our Natural Toners here
---