The Sukin Journal
Discover the world of natural through our eyes! From skincare tips, lifestyle and environmental hacks to inspirational interviews! Explore it all.
Sukin's 5 tips to look after Coloured Hair. (naturally of course!)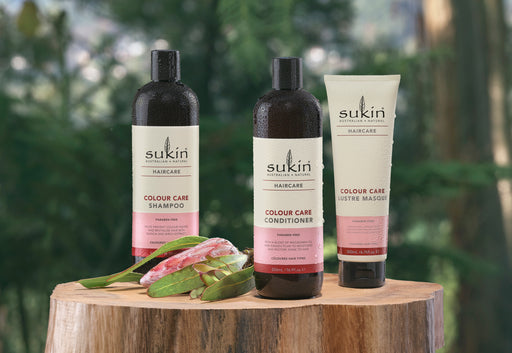 Make the switch to sulphate free haircare.
Ever washed your hair and seen coloured water wash down the drain? Sulphates can often be too harsh on your hair, causing the colour to be stripped from your hair. Sukin's Colour care range is free from Sulphate (and silicones!) and contains Quinoa to help prevent colour fading.


Swap out elastics for a scrunchie!
Not only are they more comfortable, scrunchies are less likely to pull and tug at your locks, helping to prevent breakage. These scrunchies have been handmade by @samsara.scrunchies from repurposed and recycled materials in Western Australia, AU.
Turn down the heat.
One of the most common causes of colour fading is washing your hair with hot water. Try using lukewarm water when washing your hair, this will stop the cuticles of your hair opening and letting your colour escape.


Commit to the double mask.
Multi-masking is the latest trend now, but it isn't restricted to just your face. Next time you pop on your Sukin face masque, spread the love to your hair and try Sukin's Colour Care Lustre Masque. It has a blend of Kakadu Plum & Birch Extracts to restore shine and radiance to coloured hair.


Ditch the hot tools (…where possible!)
Focus on locking in moisture by putting down the hairdryer, straightener or curler! A simple way to introduce this switch into your routine slowly is to start alternating between blow-drying your hair after washes and letting your hair air dry instead. (P.S for added hydration after your wash try Sukin's Hydrating Treatment Oil).


Enjoy our new Colour Care Range of natural hair care today
Colour Care Shampoo
Gently cleanses hair with an infusion of Quinoa to help prevent colour fading. While Kakadu Plum & Birch Extract nourishes and revitalises hair to promote a healthy natural shine.

Colour Care Conditioner
Infused with a moisturising blend of Macadamia Oil & Kakadu Plum Extract to smooth hair, control frizz and restore shine. Whilst Quinoa helps keep coloured hair vibrant for longer.

Colour Care Lustre Masque
Restores natural shine and radiance to colour treated hair with Kakadu Plum & Birch Extracts. Whilst a blend of Quinoa & Macadamia Oil helps prolong colour and strengthen damaged hair.
If you have any further questions, please message us directly @sukinskincare